Board One: The Academy Strikes Back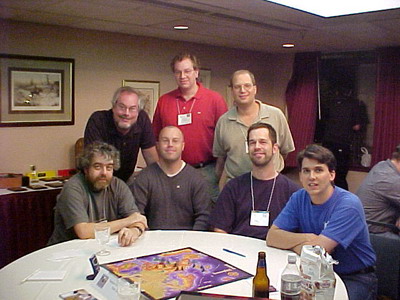 (l-r): Nigel Pepper, Ray Setzer, Blue Cable, Paul Rosenzweig, Sandy Wible, Steve Emmert, Chris Martin
Board Two: The Name of This Board Is...Well, Beats Me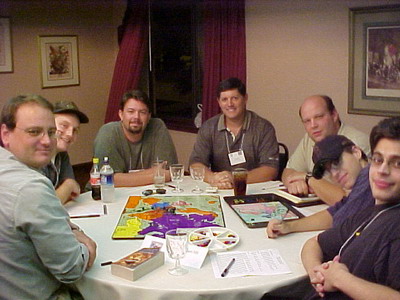 (l-r): Ed Rothenheber, Luke Rose, Ike Porter, Steve Araps, Rob Cochran, Adam Hopkins, Doug Faust
Board Three: The Love Fest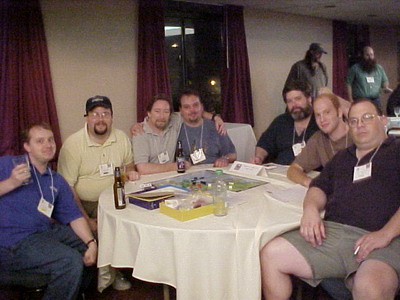 (l-r): Ken Samuel, Tim Richardson, Mr. and Mrs. Jerry Fest, Scott Troemel, Adam Silverman, Andy Bartalone
Board Four: Let's Stay Up Late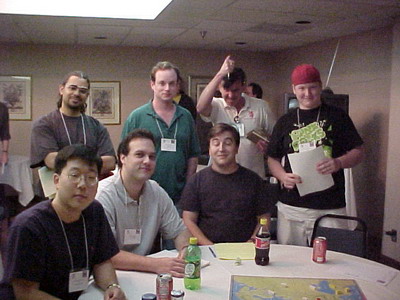 (l-r): Brian Lee, Brian Ecton, Simon Szykman, David Hood, Rick Desper, Martin Smith, Eric Rink
Board Five: Silent But Deadly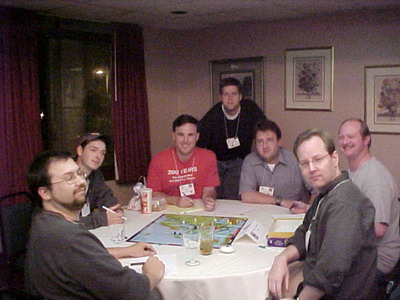 (l-r): Joe Wheeler, Clayton Paulding, Tom Kobrin, Grant Flowers, Jase McConney, Brad Stuart, Roy Rink
Board Six: Pasko's Folly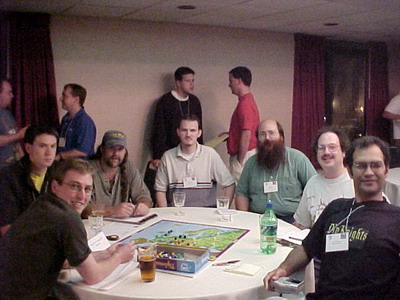 (l-r): Conrad Woodring, Creight Hottinger, Tom Pasko, Jeff Ladd, Marlin Pierce, Mike Barno, David Watson
(Background: Bernard, Samuel, Flowers, and Kobrin Tell Each Other Sweet Lies)
Board One: Does Marshall Have To Be On A Board For Me To Kill Him?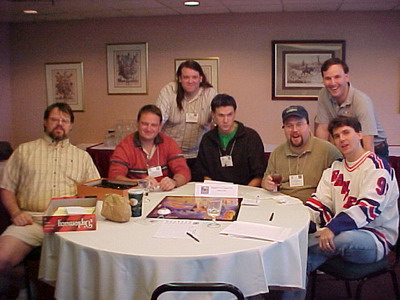 (l-r): Dan Mathias, Ed Rothenheber, Bill Morse, Conrad Woodring, Tim Richardson, Tom Kobrin, Chris Martin
Board Two: The East's Not Red and The West's Just Weird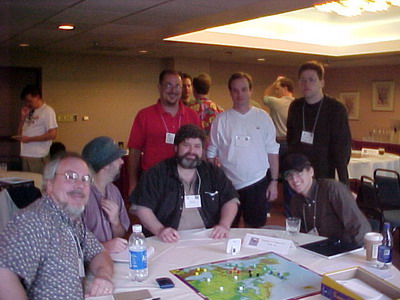 (l-r): Ray Setzer, Tom Pasko, Andy Marshall, Scott Troemel, David Hood, Grant Flowers, Adam Hopkins
Board Three: The Board From HELL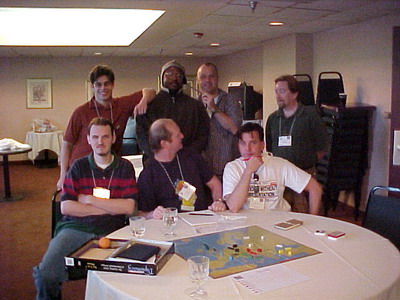 (l-r): Jeff "Wonder" Ladd, Doug "Drunken Sailor" Faust, Roy "Homer" Rink, Hudson "Is" Defoe, Sean "Blue" Cable, Martin "Satan's Already Taken" Smith, Jerry "Who ARE You People?" Fest
Board Four: When Andy Met Jase (aka BladeBoy's Remorse)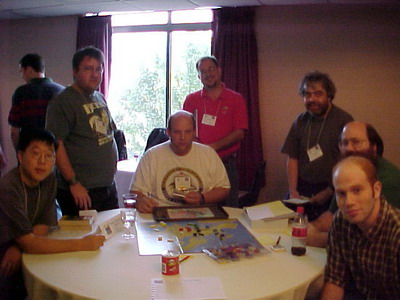 (l-r): Blades Lee, Jase McConney, Keg Cochran, Andy Marshall, Nigel Pepper, Marlin Pierce, Adam "I'm Not THAT Evil" Silverman
Board Five: You People Are Scaring Me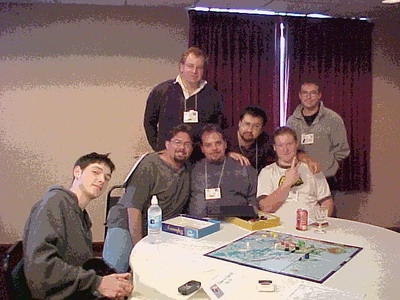 (l-r): Clayton Paulding, Ike Porter, Steve Emmert, Mrs. Ike Porter, Joe-Sloth "Smooth Operator" Wheeler, Eric Rink, and a very bewildered Creight Hottinger
Board Six: First Thing, Let's Kill The Pitkisser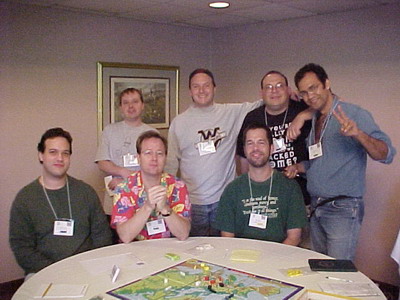 (l-r): Simon Szykman, Ken Samuel, Brad Stuart, Luke Rose, Andy Bartalone, Sandy Wible, David Watson
Board One: If We Drop Germany and Resurrect Austria, The Draw Will Spell FART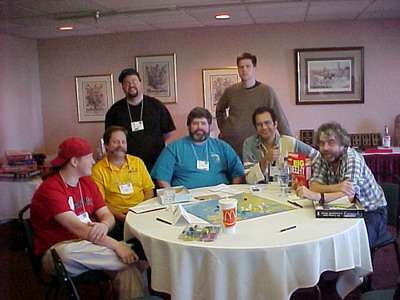 (l-r): Eric Rink, Jim Yerkey, Tim Richardson, Scott Troemel, Grant Flowers, David Watson, Nigel Pepper
Board Two: What Do You Mean, "Watch Out For Chris?" DOH!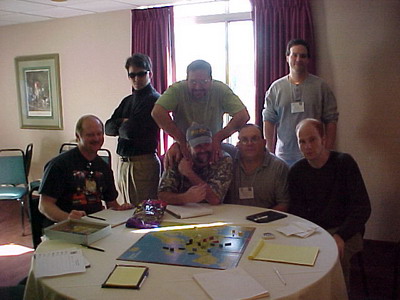 (l-r): Roy Rink, Martin--Chris Martin, Mark Franceschini (choking Pasko), Tom Pasko, Andy Bartalone, Simon Szykman, Adam Silverman
Board Three: Kill Der Koehler...He's Not Here? That'll Save Us Some Time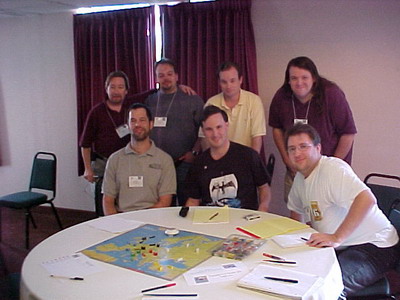 Back Row (l-r): Mr. and Mrs. Jerry Fest, David Hood, Bill Morse
Front Row (l-r): Sandy Wible, Tom Kobrin, Jase McConney
Board Four: Revenge of the Pitkissers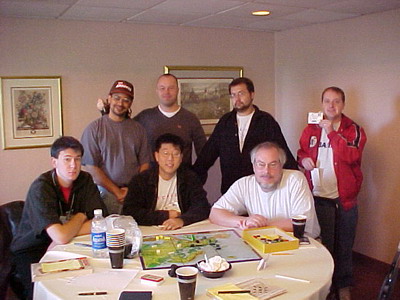 Back Row (l-r): Brian Ecton, Sean "Blue" Cable, Joe "Sloth" Wheeler, Ken Samuel
Front Row (l-r): Conrad Woodring, Brian "Blades" Lee, Ray Setzer